First Litter
"Scout": Norwegian, Swedish, Finnish and French Champion Ukukhyana Scout the Red Baron
Tikkun and Naka produced their first litter January 16th 2000
"Scout" went to Norway to live with John-Sigve Berg and his family and kennel of ridgebacks.

On July 9, 2001 Scout was awarded Best In Show at the prestigious Swedish National Specialty.

Scott has been invited to attend the prestigious Crufts Dog Show two years in a row.

Scout has sired two beautiful litters in Norway which are just being shown now.

He is thyroid and cardiac normal, eyes and elbows clear and certified hips excellent.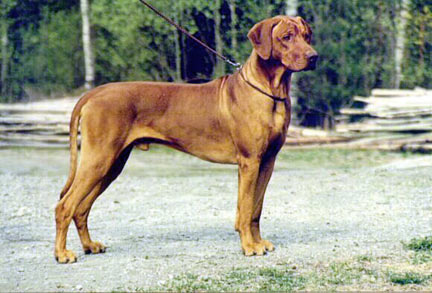 "The most remarkable moment of my judging was when Ukukhanya Scout The Red Baron entered the ring. He is a liver nosed dog, which I do not normally like, but then I have never seen one exhibiting the breed type and head of this one. He is without doubt the best ridgeback I have seen. Superb conformation, excellent temperament, super head, excellent bone front and feet, excellent top line well ribbed back. His movement is outstanding, driving off well from strong well-muscled hindquarters with correct width behind hocks. In profile, effortless with great reach and drive, coming towards absolutely true. This was all wrapped in a beautiful coat and color. He was an easy winner in his class and never stopped showing in the challenge with enthusiasm and style. I was pleased to award this outstanding young dog Best in Show and also CAC. I hope to hear more of him in the future."
Lindsey Barns
Her comments after judging the Rhodesian Ridgeback Swedish Specialty 2001

For more information about Scout you may explore http://home.online.no/~j-sberg

"Morgan": CH. Ukukhyana Neema Morgan
At the 2001 National Specialty held in Washington Morgan placed 3rd in the Open Dog Class. He then went on to complete his championship winning two 5 point majors back to back.
"Morgan" lives in Rogue River Oregon with Vicky and Mark Russel. He too enjoys running loose on 15 acres of forest land, hiking and playing with his new sisters "Madison" and "Mackensey".

Morgan is thyroid and cardiac normal, elbows clear and GDC hips certified excellent.

For more information about Morgan link to http://www.imbuka.com.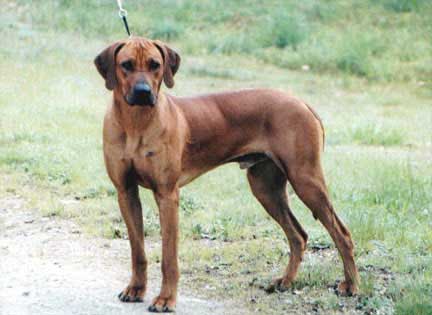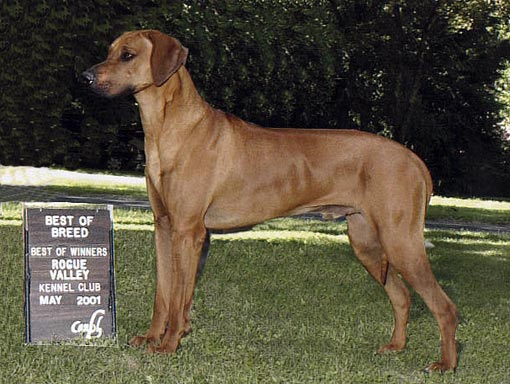 "Nye": Ukukhyana Nye's Memories of Africa
"Nye" lives in Chicago with his owner Sharon Volk who owns a bed and breakfast for dogs…lucky Nye.
He will be shown extensively in 2002.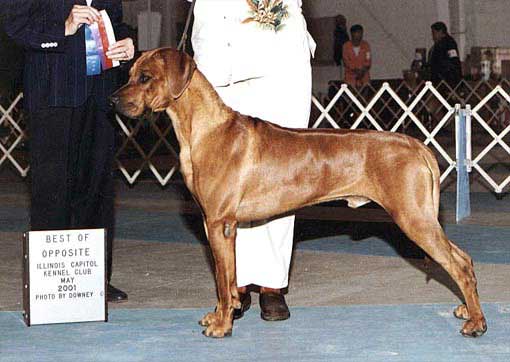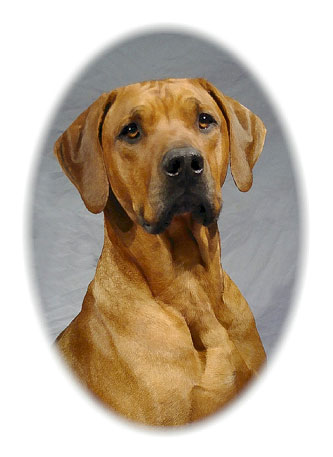 "Rocky": CH. Ukukhanya Masala Knockout
"Rocky" aka Ukukhanya Masala Knockout also lives in Chicago with Desi Lange and the rest of her Ridgebacks.

He likes creating gray hairs in his mommies head!

Rocky is currently showing in the greater Chicago area and has a Group 1 and Group 2 placement under his belt.

Rock has sired one litter in Winsconsin. He is Thyroid normal, elbows and eyes clear and GDC hips excellent.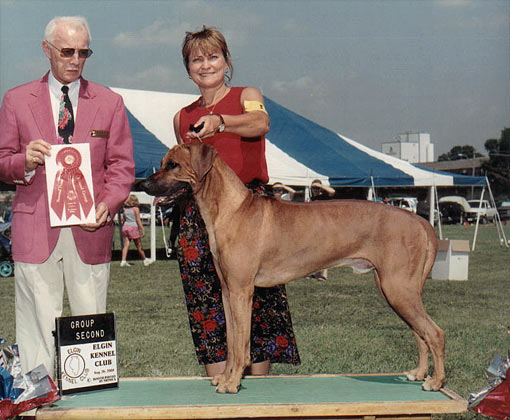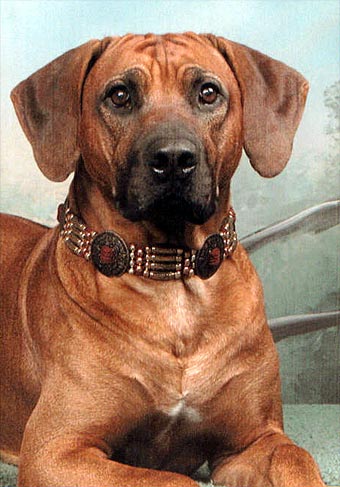 "Bigelow": CH. Ukukhanya Zintatu Bigelow
"Bigelow" is currently on vacation in Ausin, Texas with his owner Shana Nielson.

He too enjoys opening locked doors like his daddy Naka and spending a lot of time outdoors hiking.

Bigelow is thyroid and cardiac normal, elbows clear and GDC hips excellent.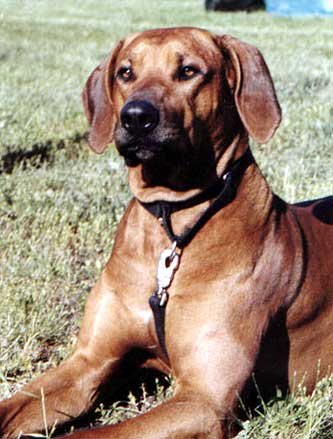 "Amazibulo": Ukukhanya's Amazibulo
"Amazibulo" stayed with us. She was the only female produced in the first litter and did quite a good job keeping the other 5 boys in line. We were so impressed with her character that…. She stayed.

Amazi is thyroid and cardiac normal, eyes and elbows clear and GDC hips excellent.

ê Amazi has been bred to Ch. Globe's Mi-Tea Scout's Honor and puppies are expected in late July. For more information about "Scout" and the Globe kennels you may click onto http://www.geocities.com/globerr.