Genetic Diseases of the Rhodesian Ridgeback
Some may find the following list shocking but the following diseases have been reported in the Veterinary medical literature as occurring in this breed.
Megaesophagus

Hypothyroidism

Deafness

Aortic Stenosis

Seasonal Flank Alopecia

Dermoid Sinus

Onchodystrophy

Myotonia

Meningeal Cysts

Cerebellar Degeneration

Color Dilution Syndrome

C

ataracts
Entropion

Pannus

Eversion of 3rd Eyelid

PRA

Calcinosis Circumscripta

Hemivertebra

Transitional Vertebra

Hip Dysplasia

P

ersistent Pupilary Membr.
OCD

Elbow Dysplasia

Spondylosis Deformans

Wobblers Syndrome

Renal Dysplasia
What can be done about genetic diseases? Well, canine geneticists estimate that the average purebred dog carries at least 4 defective genes. He or she may not be showing them but they are hidden within their genome. So you can mate a normal looking dog carrying elbow dysplasia with another normal looking dog carrying genes for elbow dysplasia and produce a litter of dysplastic pups.
So, then what to do? Support Open Registries and urge every breeder to use one. Basically, an open registry encourages breeders to test every puppy they produce for whatever genetic diseases their breed may be carrying and register these findings (good or bad) . In this way one can see what may be going on with an entire litter. So, if you have 6 pups and one is normal but 5 have cataracts then that one who looks normal may be carrying a gene for cataracts. This is much different from having 6 pups one which has cataracts and 5 that do not. For more information about what an open registry is you may wish to log onto www.vetmed.ucdavis.edu/gdc/gdc.htm. Or phone the Institute for Genetic Disease Control in Animals at (530) 756-6773.
Do all you can to find out where affected and carriers are among a dog's siblings, offspring and relatives.
Another great website for genetic information is: http://www.magma.ca/~kaitlin/diverse.html
Or http://www.workingdog.com/genetics.htm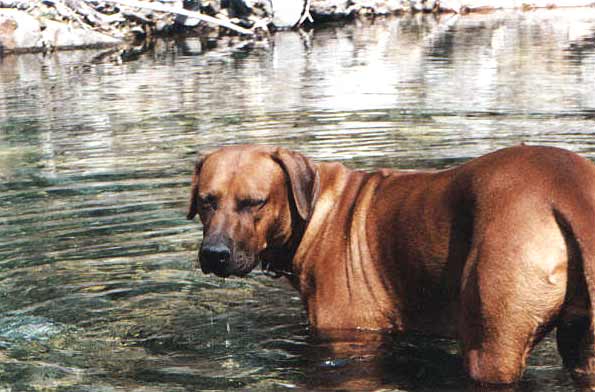 Kanon
Do not breed to a dog whose owner will not supply that information. Screen as many of your own dogs as possible and supply this information to buyers and breeders.