Our Dogs

International and AKC Champion
NOMVUYO TIKKUN R.O.M.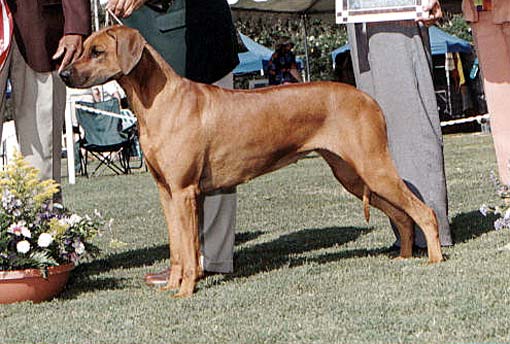 Tikkun was breed by Janet Wang in South Africa and sent to us at eight weeks of age.


Tikkun was awarded her International championship in 3 shows.


She was awarded her AKC championship in 12 shows.


Hips are GDC rated excellent, elbows clear, T4 normal cardiac normal.


Tikkun whelped her first litter January 16, 2000 and produced one liver nosed female and 5 males, one of which was liver nosed. There were no dermoids, ridgeless, jaw faults, kinks or gay tails. All currently are healthy, happy and showing. Scout was exported to Norway and is making quite a stir there.


Tikkun whelped her second litter September 18, 2001 and produced 3 females, one liver nosed, and 4 males, two liver nosed. There were no dermoids, jaw faults, kinks or gay tails. One male is ridgeless.


This is Tikkun's last litter, she will be looking forward to resuming her hiking, running and traveling abroad!


Tikkun was No. 3 Top Ten Brood Bitch - 2002. Her champion progeny to date are:
Am - INT'L CH. Ukukhanya Masala Knockout
Ch. Ukukhanya Neema Morgan
Ch. Ukukhanya Zintatu Bigelow
Ch. Ukukhanya Scout The Red Baron
Ch. Ukukhanya's Namaste`
Ch. Ukukhanya Tranquil Tejas



In 1999 she went Best Opposite Sex to Best Of Breed at the Orange Coast Rhodesian Ridgeback Specialty.


South African and AKC Champion
KAROSKLOOF BAYEZANA NAKA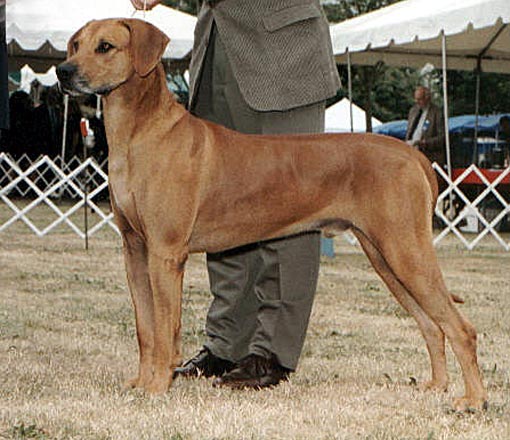 | | |
| --- | --- |
| | Naka was breed by Arno van Wyk in Port Elizabeth, South Africa. He was sent to us when he was two years old. To contact Mr. van Wky; avw_karoskloof@yahoo.com . |
| | Naka was awarded his South African Championship in 5 shows. |
| | He was then brought to the United States to live with us. |
| | Here, he obtained his AKC championship and bred with Tikkun, Arrow and Abigail. |
| | Moreover, he went on numerous hikes and camping trips. |
| | And he demonstrated to us that he was quite proficient at unlocking doors, chasing rabbits and taking down large prey. |
| | Naka is now back in Africa showing, breeding and being naughty! |
| | Naka was No. 4 Top Ten Stud Dog - 2002. |
| | Naka has produced 8 AKC champions and one Multi-European champion to date with only 3 breedings. |


NOMVUYO AFRICAN STORM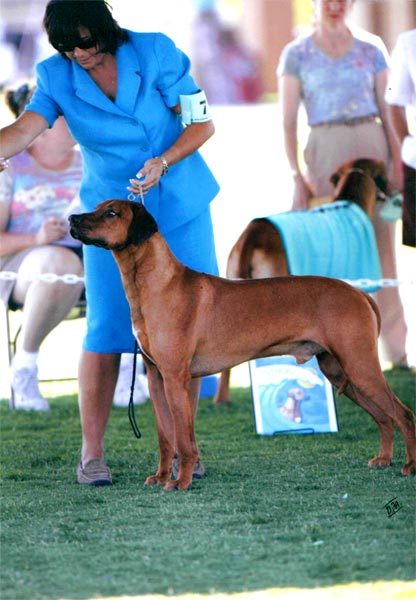 "Tomba" was bred by Janet Wang and imported to the United States by Helen Brunner. Currently he lives
with his co-owner Christina Bradbury in Davis, CA.



"Tomba" took second place in the Open Dog division at the San Diego Rhodesian Ridgeback Specialty
this May.